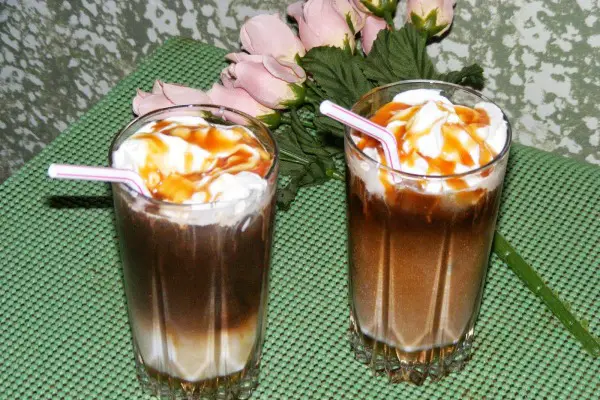 Starbucks coffee is famous around the world. I had it at airport for the very first time, I ordered for Starbucks Caramel Iced Coffee and stood near the counter and observed what he is adding in it ;). When I came back to home I tried it and got very similar taste. Check out the recipe and made your own delicious Caramel Iced Coffee.
Starbucks Caramel Iced Coffee Recipe
Starbucks Caramel Iced Coffee
Author:
Prep time:
Total time:
Ingredients
Brewed coffee 3/4 cup
Brown sugar 1 tbsp
Chocolate syrup 1 1/2 tbsp
Ice cold milk 1 cup
Crushed ice as required
Cream and chocolate stick for garnishing
Instructions
Mix brown sugar in brewed coffee and allow to cool.
Pour chocolate syrup in glass.
Add in cold milk then brewed coffee and ice.
Garnish with cream and chocolate stick and serve.
Notes
Add brown sugar if you like sweetener in coffee.