Creamy Coffee Cake is one of best cake. Bake it at any special occasion celebration or give as a gift to your friend.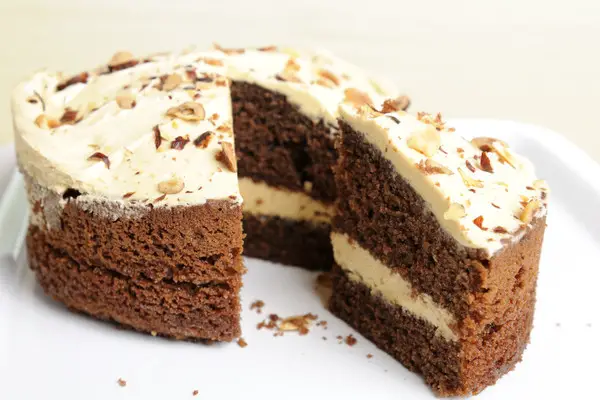 Ingredients
For Sponge
Eggs 3
Instant coffee 1 tbsp
Vanilla essence 1-½ tsp
Sugar ½ cup
Flour ½ cup
For Coffee Cream 
Cream 2 cups
Coffee 1 tbsp
Vanilla essence 1 tsp
For Sugar Syrup
Water 1 cup
Sugar 3 tbsp
Coffee 1 tsp
Method
For Sponge
Pre-heat oven to 190 degrees C. Grease, line a 8-inch round tin, flour lightly. Keep aside.
Beat eggs until fluffy then mix the coffee, vanilla essence and the sugar.
Sift the flour over the egg mixture in three badges. Fold in the flour very gently but thoroughly. When all the flour has been incorporated, transfer the batter to the tin.
Bake for about 35-40 minutes or till a knife/fork inserted comes out clean.
If you find the cake browning too much, carefully slide a sheet of aluminum foil over the cake.
Leave the cake in the tin for 10 minutes and then run a knife along the sides to release the cake.
Turn on a wire rack and cool completely. When cool, slice horizontally into 2 layers.
For the Coffee Cream Icing
Beat the cream, add the essence and the coffee. Refrigerate till using.
For the sugar syrup combine the water, sugar, and instant coffee and bring to a boil.
Reduce the heat and simmer, stirring frequently, until the sauce has thickened slightly.
To assemble, place one cake layer on a plate or board and brush or spoon sugar syrup evenly.
Spread the cream using an off set spatula. You can put nuts or chocolate chips on this layer of cream.
Place the top layer, spoon syrup again. Frost with the cream. Chill and decorate.