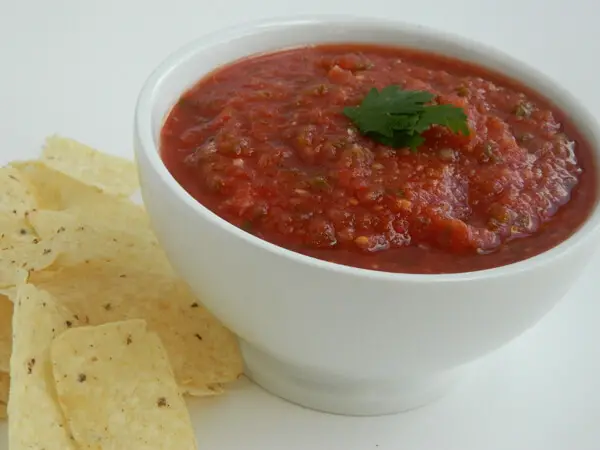 A super easy tomato salsa in a delicious taste. No cook, just prepare in 5 minutes with fresh tomato, onion, garlic and seasoning.
Also Try: Chef Zakir Quick Recipes
Quick Tomato Salsa Recipe
How to Make Tomato Salsa
Recipe type:
Dip, Condiment, Sauce
Ingredients
Crushed or diced tomatoes 1 can (14oz / 400g)
Chopped onion ¼ cup
Garlic 1 clove (minced)
Jalapeño pepper 1 tbsp (roughly chopped)
Sugar ¼ tsp
salt ¼ tsp
Black pepper powder ⅛ tsp
Cumin powder ¼ tsp
Fresh lemon juice 1 tbsp
Roughly chopped coriander ¼ cup
Instructions
Blend half tomato in food processor or blender.
Put all the other ingredients except the coriander and blend again.
Now add the coriander and remaining half tomatoes.
Blend again until get desired consistency.
Adjust salt and pepper according to your taste.
Notes
Serve immediately or store in an air tight jar for 2-3 days in refrigerator.