Sauces and Dips Recipes
Sauces and dips are a savory accompaniment to dishes and appetizers. These are compositions made with vegetables, tomatoes and other easily available ingredients. They add taste and softness to every dish. 
Used since ancient times to season and thus make appetizing recipes and dishes of all kinds, from pasta to meat, from vegetables to fish.
7 Amazing Sauces and Dips Recipes
Discover the best sauces and dips recipes for ideal complements for different dishes.
Each is perfect in its own way. Thanks to the mix of flavor and texture to combine with the recipe.
1- Italian Sauce
Learn how you can make Perfect Homemade Italian Dressing. This is delicious in salad, in chicken or pasta. This tangy dressing also use for marinade of chicken and fish.
Ingredients
Vinegar ½ cup
Olive oil ½ cup
Oregano 1 tsp
Salt 1 tsp
Black pepper ½ tsp
Garlic powder ½ tsp
Water 3 tbsp
Mayonnaise 1 tbsp
Instructions
Add all ingredients in a bowl.
Mix until incorporated. 
Pour in a sauce bottle and use accordingly. 
2- Peri Peri Sauce

I personally love the hot and spicy taste of piri piri sauce. I use this mild-flavored sauce in different recipes to get an amazing taste. Follow peri peri sauce recipe by Chef Zarnak Sidhwa to make it at home.
Ingredients
Kashmiri red chilies 6
Button red chilies 3
Water 1/2 cup
Red chili flakes 1 tbsp
Garlic 2 cloves
Mustard seeds 1 tsp
Green coriander 1 tbsp (chopped)
Oil 1/4 cup
White vinegar 1/4 cup
Onion small 1 (sliced)
Lemon juice 1 tbsp
Salt 1 tsp
Instructions
Soak Kashmiri red chilies and button red chilies in water for 2 hours (preferably overnight).
The next day put red chilies along the water and all ingredients in a blender and blend 2-3 minutes until combine well.
Pour in a glass bottle, keep in the fridge and use according to the recipe.
For Urdu Recipe: Peri Peri Sauce Urdu Recipe
3- Mayo Garlic Sauce
Learn how to make Mayo Garlic Sauce with this easy method.
Ingredients
Egg 1
Mustard 1 tsp
Salt to taste
Sugar 1 tsp
Lemon juice/vinegar 2 tsp
Garlic paste 1 tsp
Oil 1 cup
Instructions
Put all ingredients in a tall container. Using a hand blender, blend all the ingredients at high speed till it thickens like Mayo. (Or blend in a blender until thick)
Leave for a few hours to infuse the flavors and then use.
4- Garlic Dip
This is one of the easy recipes of garlic dip that goes great with BBQ. You can also add yogurt to it.
Ingredients
Fresh coriander ¼ bunch
Mint ¼ bunch
Green chilies 4-5
Garlic cloves 12-15
Crush cumin 1 tsp
Salt to taste
Khatai powder (dry mango powder) 1 tsp
Instructions
Chop all ingredients in the chopper with 4 tbsp water to make a smooth paste.
Include more water if required.
Ready to serve with bread or fried food.
5- Tomato Salsa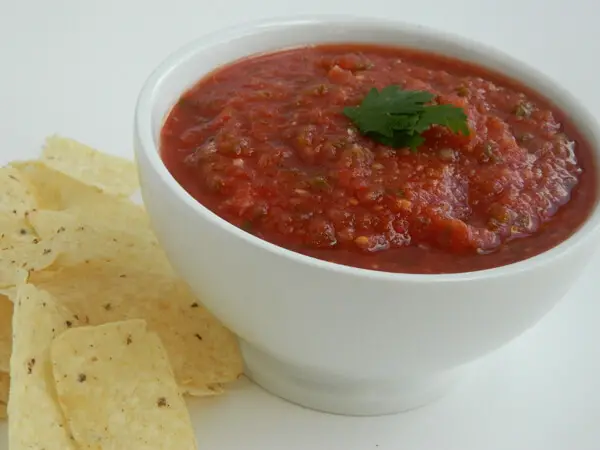 Super easy tomato salsa in a delicious taste. No cook, just prepare in 5 minutes with fresh tomato, onion, garlic, and seasoning.
Ingredients
Crushed or diced tomatoes 1 can (14oz / 400g)
Chopped onion ¼ cup
Garlic 1 clove (minced)
Jalapeño pepper 1 tbsp (roughly chopped)
Sugar 1/4 tsp
salt 1/4 tsp
Black pepper powder 1/8 tsp
Cumin powder 1/4 tsp
Fresh lemon juice 1 tbsp
Roughly chopped coriander ¼ cup
Instructions
Blend half tomato in a food processor or blender.
Put all the other ingredients except the coriander and blend it again.
Now add the coriander and remaining half tomatoes.
Blend again until you get the desired consistency.
Adjust salt and pepper according to your taste.
Notes Serve immediately or store in an airtight jar for 2-3 days in the refrigerator.
6- Schezwan Sauce
Schezwan Sauce is a spicy treat for spicy food lovers! This is a blend of dried red chilies, ginger garlic paste, vinegar, and sugar. Be careful while adding it in your recipe because Schezwan Sauce is full of spice. You can make it in advance and keep in a jar and refrigerate for later use up to one week.
Ingredients
Whole dry red chili 10-12
Water 1/2 cup
Ginger garlic paste 1 tsp
Vinegar 4 tbsp
Sugar 2 tbsp
Salt 1/2 tsp or to taste
Oil 2 tbsp
Instructions 
Boil red chilies in water about 8-10 minutes, allow cooling then blend it with ginger garlic paste, vinegar, sugar, and salt.
Heat oil in a pan and saute sauce in it about 2 minutes.
Schezwan sauce is ready.
7- Creamy Cucumber Dip
This cool and refreshing Creamy Cucumber Dip  is healthy and delicious and perfect to serve with a meal of your choice.
Also check other condiment recipes.
Ingredients
Cucumber 1/2 cup (finely grated)
Fresh hung curds 1/4 cup
Mayonnaise 2 tbsp
Garlic paste 1/2 tsp (optional)
Mint paste 1/2 tbsp
Salt to taste
Instructions
Squeeze out the water from the cucumber and discard water.
Blend the cucumber in a mixer till smooth.
Combine all the ingredients in a deep bowl, including the cucumber and mix well.
Refrigerate for at least an hour. Serve chilled.

Facebook-f


Twitter


Pinterest


Whatsapp