Stuffed with mince and pineapple this boneless stuffed chicken is tasty for words. Stuffed Chicken with Mince is great for parties and special occasion.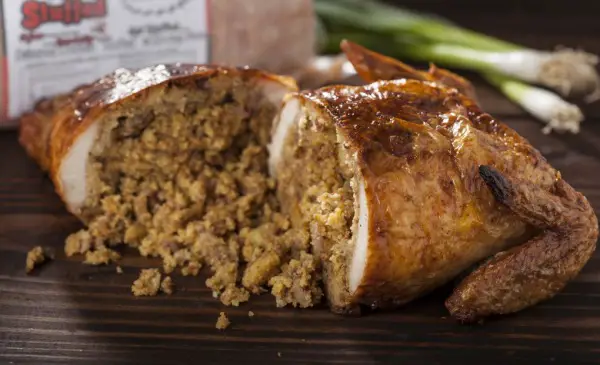 Ingredients
Chicken Marination
Whole chicken with skin 1
Black pepper powder 1/2 tsp
White pepper 1/4 tsp
Worchester sauce 2 tbsp
Salt to taste
For Beef Stuffing

Beef mince 250g
Onion 1 medium
Green chilies 4-5 (rough chopped)
Garlic 4 large cloves (chopped)
Medium piece ginger
Salt to taste
Crushed red chili 1 tbsp
Sesame seeds 3 tbsp
Mustard paste 1 tbsp
White pepper 1/4 tsp
Black pepper powder 1/2 tsp
Honey 2tbsp
Worcester sauce 2 tbsp
Pineapple 4 slices (rough chopped)
Oil 4 tbsp
Lemons 2
Onion 1 (sliced)
Method
Debone whole chicken in such style that bones will remove but it remains whole.
Marinate chicken with all spices.
Chop beef with onion, green chilies, ginger and garlic.
Than add salt, crush red chili, sesame seeds, mustard paste, white pepper, black pepper, honey, Worcester sauce and chop again.
Take out mince in a bowl and add pineapple. Mix well.
Now place chicken in a plate and in open area from where bones were remove, fill it with mince.
Fold chicken in such way that it looks like whole chicken.
Heat up oil in a pan and place whole chicken in pan.
Squeeze lemon juice on chicken top side. Move chicken in pan so not stick with the pan.
When it becomes brown from down side turn it and squeeze lemon on top side. Cook until get color on other side.
Grease baking try with oil, set sliced onion and arrange chicken on sliced onion.
Set tray in pre heated oven and bake at 200 degree for 15-20 minutes or till tender.
Cut and serve warm.