An authentic taste of chicken with nice presentation that makes Tikka Skewer Biryani tempting. A perfect main course for any special event.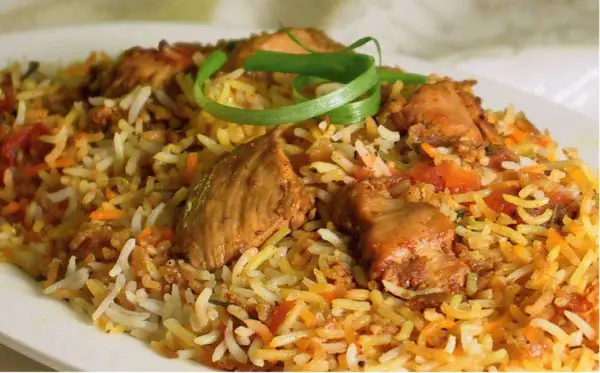 Ingredients
Boiled Rice ½ kg
Oil 1 cup
Onion 250 grams (sliced)
Potato ½ kg (cubed)
Tomato 250 grams
Yogurt 250 grams
Salt 1 tsp
Ginger Garlic Paste 1 tbsp
Yellow Food Color ½ tsp
Biryani Essence 4 drops
Whole All Spice 1 tbsp
Red Chili Powder 2-1/2 tsp
Coriander Powder 2 tsp
Turmeric ½ tsp
Plum 100 grams
Green Chili 10
Green Coriander 1 bunch
Mint Leaves 1 bunch
For Tikka Making
Tikka Boti ½ kg
Papaya Paste 2 tbsp
Red Chili Powder 1 tbsp
Vinegar 2 tbsp
Lemon Juice 2 tbsp
Salt ½ tsp
Ginger, garlic paste 1 tsp
Fried Cumin Seeds 1 tsp
Shashlik Sticks as required
Method
Marinade chicken with papaya paste, red chili powder, vinegar, lemon juice, salt, ginger garlic paste, fried cumin seeds and leave it for half an hour.
In frying pan heat oil and fry onion till brown.
Then add potato, tomato, yogurt, salt, ginger garlic paste, yellow food color, biryani essence, whole all spice, red chili powder, coriander powder, plum, turmeric. Cover and cook.
Cook until potato tender then add green chili, coriander and mint leaves. Turn off the flame.
Thread marinated chicken on shashlik sticks and fry accordingly.
In the end shift rice on fried masala, along with tikka, fried onion, yellow food color, green chili and green coriander.
Cover and cook for 20 minutes on slow flame.